Industries leading the way in conversational AI
Conversational AI has advanced dramatically since the early days of chatbots with limited capabilities. Over time, more industries are realizing the capabilities and benefits that these developments bring.
Digital assistants like Alexa and Siri are making consumers wonder why they can't use the same capabilities at work. Although there are enterprise versions of Alexa and Cortana, the AI ​​for conversations is still not at the point where a user can ask any question and get a coherent answer. Like most other types of AI, the best use cases are narrow rather than broad.
The level of risk associated with conversational AI also plays a role. For example, if Alexa or Siri made a mistake in the context of a consumer, that mistake would probably be somewhat annoying if not laughable. However, in a business environment, the risks increase because the accuracy of AI affects the perceived quality of the brand.
"Most chatbots are designed to communicate only one specific service, such as news, food, hotel reservations, weather information, or flight reservations," said Adnan Masoud, chief AI engineer at digital technology services provider UST Global. "Multipurpose bots are developed to accomplish multiple tasks with the same interface."
However, current challenges include multimedia support in dialogue systems, the ability to process and understand visual dialogues, efficient data dialogue model learning (learning from smaller datasets), the use of cognitive graphs and collaboration with IoT devices to maintain context.
"The next generation of conversational AI systems will address many of the ethical and technical challenges associated with public conversation AI systems, including bias, safety, multi-role context, consistency, knowledge management and synthesis," Masoud said.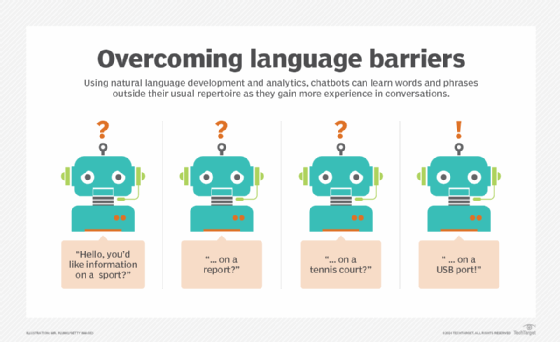 Conversational AI examples in vertical markets
Within Financial Services, Wings Financial Credit Union uses conversational AI to authenticate members. The company uses Nuance Gatekeeper, an AI-powered biometrics platform that can verify members in less than 0.5 seconds with a 99% authentication success rate. The platform considers over a thousand physical and behavioral factors unique to each person. As a result, member accounts are more secure.
"Conversational AI has had tremendous successes in financial services, but it has also faced challenges," said Wayne Butterfield, partner at ISG Automation. "Success has always come in two places: frequently asked questions that require generic answers or when the answer is fully met and customized." Global technology research unit and consulting firm ISG. "The industry has struggled with anything outside of these two types of queries."
Health insurance companies, such as Humana, also need better ways to address customer inquiries. Working with IBM, Humana has developed an IBM Watson-based voice agent that can provide faster, friendlier, and more consistent support for administrative staff at healthcare providers. The solution relies on conversational AI to understand the purpose of a provider call, verify that it is allowed to access system and member information, and determine how best to deliver the requested information.
Likewise, just as the healthcare sector in general has benefited from AI during the pandemic, CVS has worked with IBM Consulting to use Watson Assistant to deal with a tenfold rise in call volumes with the launch of the United States' COVID-19 vaccination program.
"One of the biggest trends that has emerged has been the active role that patients have played in their own healthcare, but pharmaceutical companies did not want their customers – healthcare providers and patients – to search for product information on Twitter or TikTok," said Alyssa Hammings, chief medical officer. Director and Global Head of Medical Information Services at IQVIA, a healthcare intelligence company.
Examples of conversational AI that software vendors build for customers
Messaging platform provider Satisfi Labs has built a ticket sales assistant so that its customers can search for and buy tickets directly through chat. I've also created a ticket service assistant that handles post-purchase questions about how to access mobile tickets, forward tickets, or receive ticket account instructions. The platform can also capture insights into customers' buying preferences throughout the conversion funnel.
"We recently conducted an analysis of our sports customers using our ticket merchandising feature and found that on match day, 81% of fans request the lowest priced tickets," said Randall Newman, chief product officer at Satisfi Labs. "However, three or more days before a match, only 47% of fans order the lowest priced tickets and are willing to buy nicer and more expensive seats. These types of ideas can help our customers manage inventory and anticipate demand, as well as create a better promotion strategy. for tickets."
Marsh McClennan, a professional services firm that specializes in risk strategy, used Five9's call center software to launch a global, multilingual chat solution that provides 24/7 support. Messages can be written in a local language and translated into English so that an English-speaking HR representative can respond. When they do this, their response is translated back into the original language so that both parties can communicate without speaking the other's language.
"Conversational AI doesn't work well when there are a lot of back-and-forth steps required or many steps," said Jonathan Rosenberg, CTO and Head of Artificial Intelligence at Five9. "Building it is a combination of art and science and the best way experienced people do it. In the same way you probably wouldn't build a complex mobile app UI using a team that had never built a mobile UI before, we wouldn't be building a complex conversational AI with a team that's never built it." "